Paws and Plant-Family Engagement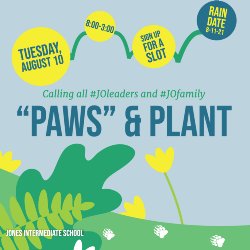 What

Paws and Plant-Family Engagement

When

8/10/2021, 8:00 AM

–

3:00 PM

Where

J J Jones Intermediate School
Do you know what we love? Family engagement!
Our schools are planning fun opportunities before school starts to reconnect with our staff, students, and families.

Jones Intermediate has "Paws" & Plant scheduled to beautify Jones' campus before students return.

Click the link below and sign up for a time to join Jones.
http://bit.ly/pawsANDplant
#MAfirstday is coming and we are getting ready!
Copy to Google Calendar
•
Download iCal Event